Stardot
Technologies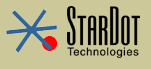 As our primary supplier of webcam technologies, Stardot provides a selection of products from their Netcam and Netcam XL models to their Express 1 and Express 6 video converters.
Use with your existing CCTV cameras or purchase as part of a complete kit. DVR software and complete remote security camera systems are possible using this new technology.
Stardot Netcam XL

Read more about the new Netcam XL and Express 6 video servers by Stardot Technologies.