Stardot
Technologies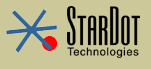 As our primary supplier of webcam technologies, Stardot provides a selection of products from their Netcam and Netcam XL models to their Express 1 and Express 6 video converters.
Use with your existing CCTV cameras or purchase as part of a complete kit. DVR software and complete remote security camera systems are possible using this new technology.
Stardot Netcam XL

StarDot offers three different resolution NetCam XL models. All models support industry standard auto iris lenses and full screen, wide screen and portrait viewing modes, as well as complete control over image resolution, image quality and bandwidth consumption. The NetCam XL 3 Megapixel supports both 720P and 1080P HD resolutions (high definition).
Model
Part
Maximum Resolution
Optimum Resolution
Max Frame Rate
NetCam XL 3MP
CAM-XL3MP

2048x1536
(3.1 Meg)

1024x768

30 FPS*

NetCam XL 1MP
CAM-XL1MP

1344x1024
(1.37 Meg)

672x512

5 FPS

NetCam XL
CAM-XL640

640x480
(0.3 Meg)

320x480

30 FPS
*NetCam XL 3MP is capable of frame rates up 225 FPS in reduced resolutions.
Stardot Express 1 & 6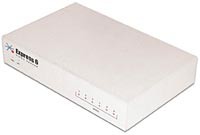 StarDot introduces an affordable solution for monitoring multiple cameras sources over the Internet and local area networks. The Express 6™ Video Server is a small standalone server that streams video from up to six video cameras that plug into the back of it. The Express 6 includes multiple network connections (1 x Ethernet and 2 x serial) and an MPEG/JPEG processor for streaming realtime video.
Because the Express 6™ Video Server is a standalone solution, no PC is required in order for it to operate. This means lower cost and much higher reliability.
Live video streams can be viewed from anywhere with only a web browser. Any configuration changes are also done through a web browser so there's no software to learn and no browser plug-ins required.

Day care center monitoring, home and business security needs, construction site monitoring and visual verification of remote equipment are all easily handled with the Express 6™ Video Server, all with a price/performance ratio that is unmatched.
Because the Express 6™ Video Server works with any video sources (NTSC or PAL), it can coincide with your existing CCTV network and allow your current security cameras to be viewed over the net (password protected, of course). If you don't have an existing security camera network, this is the perfect way to start. Not only is it priced lower than traditional security system technology, it gives you access to your cameras from anywhere in the world, something not possible with traditional security system technology.
More Information
For purchasing and order information, please contact us using. We will arrange to meet with you and find out how best we can provide a solution to your needs.